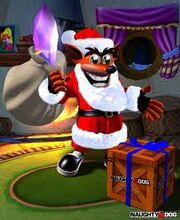 Christmas will be special regardless of what happens, even at Bandipedia Highlights. So, from 26 November 2011 until 31 December 2011 every Saturday, we'll read out all of our favourite characters circling the Crash Bandicoot network, starting from #6 and ending with the best, #1! Brought to you by EpicWikipedian!
Please note that, due to problems, #4 of Christmas Countdown is going to be delayed to 11 December 2011. However, it will continue on it's normal schedule after that. We apologize for this inconvience.
This promotion has now closed but the page is still available for archival purposes.
Ad blocker interference detected!
Wikia is a free-to-use site that makes money from advertising. We have a modified experience for viewers using ad blockers

Wikia is not accessible if you've made further modifications. Remove the custom ad blocker rule(s) and the page will load as expected.