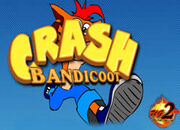 Crash Bandicoot Flash
was an unofficial game that could be played online. It is available through many websites. The game plays similar to
Crash Bandicoot 2
, where the user would have to make it through the level and get the crystal. As a bonus challenge, the user could try to break all of the crates in the level for a gem.
After getting 5 crystals, the user would have to face Ripper Roo, and spin the iron crates at him. Then, after beating Ripper Roo, the game ends.
Recommended promotions
Edit
Ad blocker interference detected!
Wikia is a free-to-use site that makes money from advertising. We have a modified experience for viewers using ad blockers

Wikia is not accessible if you've made further modifications. Remove the custom ad blocker rule(s) and the page will load as expected.