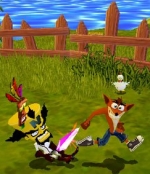 Is Crash Twinsanity giving you a headache? Can't get past Cavern Catastrophe? Don't worry. You can play along with Twinsanity Tips & Tricks! So now you can beat even the toughest of Crash Bandicoot games! Tune in from 7 January 2012 until 29 Febuary 2012, this is your one and only chance to beat that game for once and for all! Brought to you by EpicWikipedian!
---
Click on the pictures to go to the guide!
Level Guides
Edit
Boss Guides
Edit
Ad blocker interference detected!
Wikia is a free-to-use site that makes money from advertising. We have a modified experience for viewers using ad blockers

Wikia is not accessible if you've made further modifications. Remove the custom ad blocker rule(s) and the page will load as expected.