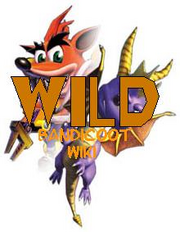 Wild Bandicoot Wiki is another Crash Bandicoot fansite which was founded on 16 March 2012 by Spyro cortex. The site aims to provide fan fictions on the series of Crash Bandicoot and Spyro. Recently, though, the site has also started accepting fan fictions for other series, like Rayman.
The site officially became an affiliate of Crashix on 28 March 2012, although won't become a part of Crashix until Wild Bandicoot Wiki has more articles. As of 2 April 2012, the wiki has 18 articles.
External links
Edit
Ad blocker interference detected!
Wikia is a free-to-use site that makes money from advertising. We have a modified experience for viewers using ad blockers

Wikia is not accessible if you've made further modifications. Remove the custom ad blocker rule(s) and the page will load as expected.